Overview
When you're looking for a materials and construction company to tackle a big asphalt project, odds are you're going to go with the first one you find online. But what if that asphalt company finds you first? Then it doesn't matter who falls next in line because their attention has already been captured. So how do you cut the line?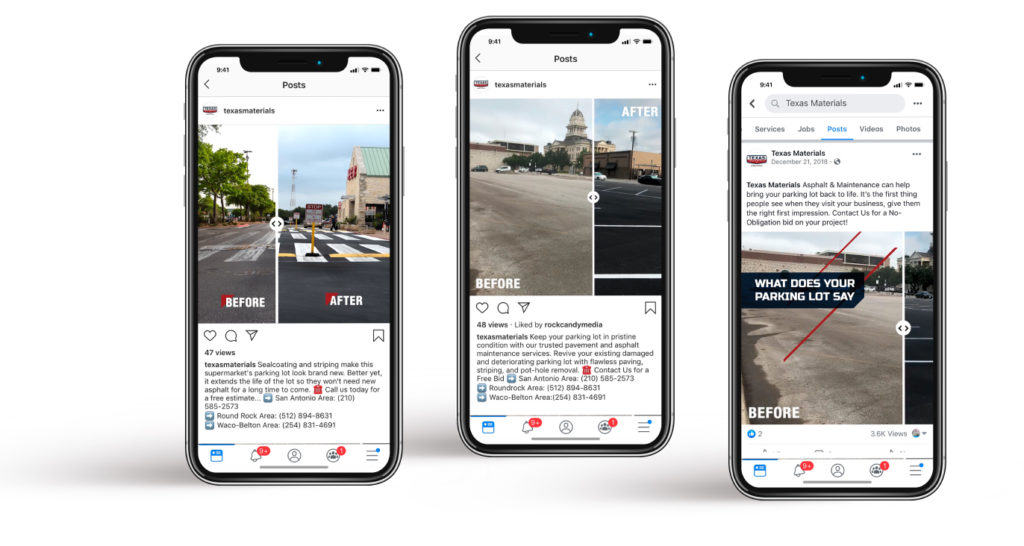 Challenge
Texas Materials is a major asphalt and aggregate supplier and installer in Central Texas. While their presence is well known in some industry circles, they didn't have a concrete way to set themselves apart from the competition while reaching customers before they begin their search. We can say their materials and expertise are superior, but how do we make it believable? How do you separate one supplier from the other?
Solution
We showed the difference. After testing out a wide variety of ads on Facebook ranging from animations to static images to Boomerangs and more, we ran a social media campaign showing off the before and afters of major parking lot projects. A simple before and after video was more effective than displaying the cost savings of asphalt maintenance. So we followed the data.
Benefit
Showing examples of deteriorated and faded asphalt turning into smooth and shiny new blacktop exhibits to the property owner or manager the difference this maintenance makes. It leads them to doubt the beauty of their parking lots while showing a vision of what's possible. There was no need to get clever or cute when the lead generation did all the talking for us.
Results
The social media campaign generated 1,099 ad clicks and an astonishing 5.22% click-through rate after spending only $260. On top of that, it generated two phone calls direct to the client. Those results absolutely crush the industry-standard for lead generation — especially for a high ticket item like a paving or parking lot maintenance project.